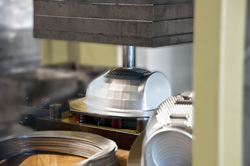 Thanks to their modern plants,
METALCO
are in a position as to offer their customers any type of Reflectors and Parabolic Reflectors.
METALCO
have a wide range of machines such as automatic plate lathes, mechanic and hydraulic presses, a complete and automatic line for the final surface treatments like polishing and/or oxidating.
METALCO
can also offer other types of surface finish such as ultrahigh vacuum painting and metallizing treatments.
METALCO
can therefore offer their clients a complete service, from forming to turning and surface final treating, giving them great advantages in terms of logistics and economy.
As a matter of fact,
METALCO
have all the necessary resources inside their producing unit, besides a know-how that is always updated; all this, together with a 30-year-old experience, leads to an advantageous and favourable price-quality relationship. 
In this way
METALCO
are able to offer a product suitable to satisfy any requirement.